The new Casio G-SHOCK GW-A1000-1ADF solar-powered timekeeper that was recently presented at Baselworld 2012 features the Smart Access. Using a revolutionary five-motor drive and an electronic crown switch, the system makes operating the gadget's numerous functions as easy as it can possibly get without using touch-based interface.



It makes us happy to see Casio continually improving its G-Shock collection of watches, and in this review we take a look at the Aviation GW-A1000 (GWA1000-1A). Now in this 30th year, the G-Shock is much more than a single collection of watches, but rather a whole family. There are G-Shocks for style and G-Shocks for strength. This GW-A1000 is in the still fresh Aviation collection. Aside from being one of the higher-end G-Shock models, the first thing you should notice is the complete lack of an LCD screen.
We typically associate G-Shock watches as being digital watches. That just simply isn't true anymore as Casio offers a rather large selection of both analog and digital screens (with LCD screens and hands), as well as 100% analog dials as we have on the GW-A1000. Does the lack of an LCD screen make this a better watch? Not exactly. The idea here is honestly to make the watch appear more traditional. Casio seems to have at least one department convinced that analog watches sell better than digital watches. Whether or not that is true is another story, but the fact remains that if you prefer an all-analog versus digital watch, Casio has you covered with models in their G-Shock, Pro Trek, and Edifice range.



Handling a higher-end G-Shock compared to a $100 model is a novel experience. The materials are better, there is more metal, and of course the features in a top-end G-Shock are more impressive. The Aviation GW-A1000 has one of the best plastic straps around. The material feels almost like rubber, with a great texture and flexibility meaning that it doesn't feel stiff or cling to your skin. The back of the case is solid steel, and it has a steel buckle.

There are also steel pushers and a steel crown. The case is really durable of course and water resistant to 200 meters.
Durability features include the typical slew of shock resistant and velocity resistant qualities, as well as Casio's "Tough Movement," which is the 5240 movement module. This uses special sensors to realign the hands if they get knocked out of position during shock to the watch. The movement is also "Solar" light powered, not requiring a battery change and being powered by light. You should also know that the GW-A1000 (as they say in Japan I think, and GWA1000-1A in the US) has a six band radio controlled movement that receives signals from atomic clocks in the US, Europe, Japan, and China.
While the watch is entirely analog, it does have the usual array of Casio watch features that G-Shock owners demand. Accessing these functions in all-analog quartz watches used to be a pain. Then Casio released its "Smart Access" crown which allows you to adjust the watch using the crown more like traditional watches. How well does it work? Well you should know that in addition to the crown, the case still has three pushers. Two metal ones on the right, and an easy to miss one on the left near 7 o'clock. That left pusher changes the modes, which are displayed in the lower subdials (that is also used to offer the day of the week as part of the calendar). The right pushers or crown are used for adjustment purposes (such as setting the alarm). The crown is twisted to unlock (as opposed to screwing down), and then beeps when ready to use. While there is some consistency, you pretty much have to consult the instructions to understand the nuances of all the features.
Can you figure out how to operate the watch just by playing with it and your good instincts? Yes and no. For example there is a thermometer feature in the watch. You'd probably never know it unless you read about it in the instructions. Push the upper pusher to activate it and the hands move to special positions to give you a temperature readout. The seconds hand tells you whether it is plus or minus, and the hour and minute hands tell you the temperature. Only issue is that you don't know how to read the hands unless you consult the manual. Without a guide on how to read the thermometer, most people would have no idea what the watch was trying to tell them. I suppose Casio can't clutter up the dial too much, but this is where a little LCD display would be really useful. There is a price to pay for all these functions and a lack of digital display.



Nevertheless, this G-Shock Aviation looks fantastic. The design is just "cool," and the dial is surprisingly balanced and legible. The hands and hour markers are produced from Casio's Neo-brite luminous material, which offer pretty good darkness viewing. Having said that, the watch totally lacks an electronic backlight function that I think should have been provided.

That means most of the functions can't be used in the dark, and reading the time in the dark will rely on the hands being charged with light beforehand. Most G-Shock models have backlights, so this feature is missed. Having said that, in my opinion Casio has yet to "get right" backlighting on its analog and digital analog watches. Those watches use small LEDs that are usually oddly placed and don't do a good enough job of lighting up the entire display. Honestly, the very best backlights on Casio watches are in their totally digital timepieces.

There is marked improvement in the speed that hands move compared to older quartz analog Casio watches. This is done when switching functions. Though, it still isn't as fast as changing between functions on a digital G-Shock. Features you'll enjoy using are the 1/20th of a second chronograph (easy to use), world timer (easy to use), alarm (easy to use), countdown timer (easy to use) and calendar (easy to view). With the Tough Movement and Smart Access, this is clearly an evolution of Casio's production of quartz multi-function analog watches. While these analog G-Shocks look fantastic, they simply aren't as user friendly or as fast as their digital cousins.



Military and other professional wearers are probably best advised to stick with Casio's totally digital offerings due to the ease of operation, very good darkness viewing, and easy-to- read displays. Those looking for a less instrument-like (or less nerdy) G-Shock will swoon to offerings such as this very well made G-Shock Aviation GWA1000-A1. Even though it is 54.1mm wide, it feels as though it wears smaller, especially as the case is quite light.

Casio is getting everything right in the visual design and tactile experience department. They just need to marry that with the solid reliability and wonderful thoughtfulness they are known for in the functionality department. This isn't an oversight, but more a progression as Casio pushes to combine its legendary digital design with an analog display. Once again, there are always sacrifices to be made for style

Additional : Video Promotion and Review of Gshock GW-A1000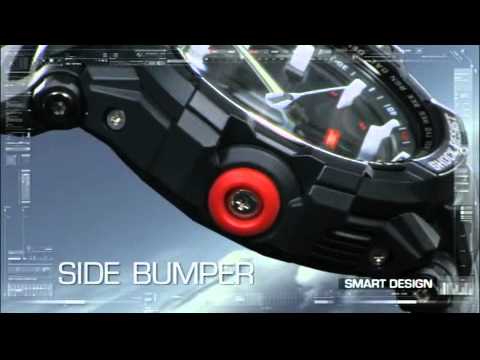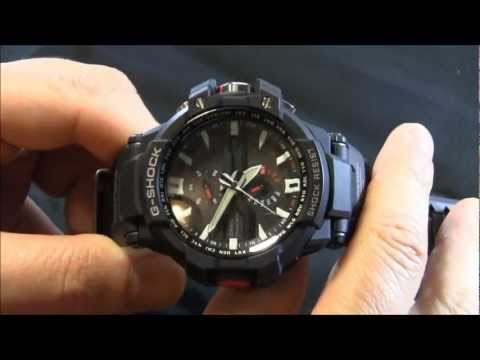 Source :
QtechReview.blogspot.com