It's hard not to like the G-Shock line of watches. They are tough, wide ranging in styles and come in every color imagineable. The GX-56 is one of their largest watches, with even more protection than ever. Casio looked at it from every angle to ensure maximum durability and they definitely acheived it.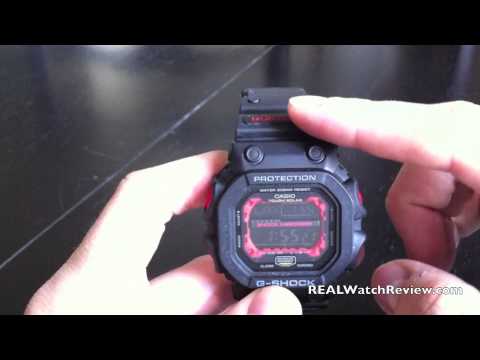 Case & Dial




The GX-56 has an overbearing case that makes the inside LCD look small, but it is still easy to read. With its reversed LCD design its easy to catch the time at a quick glance in light or dark.




The Automatic Illumination function makes it even easier to check the time at night. Just by turning it towards you at an angle the watch will detect that the light needs to turn on. We reviewed this function before in the GA110B, but the GX-56 utilizes its solar panel to only initiate it in low light. Check out the Final Review video above for a full review of the feature.

The case is very arge but very comfortable as well. The molded band connects into the case with a curvature to match the angle of your wrist. The case back is also mainly covered in extra red resin to make it that much more comforatable and protected.

Functions

An integrated power saving feature utilizes the solar panel once again during the night and shuts off the watch when there is no light. When you first grab this watch in the morning you may notice a completely blank face, as soon as it sensing light it immeditaly turn back on. This is a great way to extend the life of the already long lasting rechargeable battery.




The buttons on this watch are very large. Even when wearing gloves it is not hard to touch the mode buttons for timer and stop watch functions.

Another function that is particularly useful on the GX-56 is the dual time face. The top panel of the watch usually shows the day/date. It can also be set to read a dual time from a different time zone so you can keep track of multiple times on the same screen, great when traveling.




Band

The band is a odor and mud resistant material that really does what it says. Dirt and grime come off very easy with a quick rinse. Dirt also doesnt tend to build up in the nookes and crannies throughout the watch.=




Overall

At first glance this watch may seem to be a bit of a fashion statement, large, loud red color on black and bold features. But it is actually a very tough and useful watch that can be taken just about anywhere. The matte color will hide scratches and scuffs, and it rinses clean after getting dirty.



SOURCE
Casio G-Shock GX-56 Final Review