Pathfinder PAW-5000 is marketed in North America while the ProTrek PRW-5000 is marketed in the rest of the world. Both versions have identical features. However, do note that ProTrek PRG-500 (not 5000) is marketed to countries outside the reception zone of atomic timekeeping transmitters (ie, Africa, Mid-East and Asia other than China, Japan) do not have Atomic Timekeeping and Tough Movement features.

All versions have options of metric and non-metric units (Fahrenheit/Centigrade, meters/feet, hectoPascals/inches).

I have the ProTrek PRG 500T, with titanium bracelet. (Quite the same as PAW 5000, but without Atomic Timekeeping and Tough Movement). Great watch!

The dial is uncharacteristically 'clean' for a Casio, with no sub dials, power indicators or mode/status indicators. Everything has been cleverly consigned to the LCD window which displays the mode acronym for two seconds, followed by the relevant data. The hour-min-sec needles normally perform the basic timekeeping function; however, the seconds needle is a jack-of-all, performing additional ABC functions and World Time city selection.

The watch has some useful functions for weekend trekkers. I particularly like the barometric weather trend function. The watch is loaded with just about every feature available in ABC watches ... and more! My only gripe is the lack of lume. Perhaps lume on the hr/min hands and indices, alongwith EL backlight in the LCD display (as in several of Casio's ana-digis), would have been more useful. Though the existing LED light is good for the main dial, it completely fails to light up the LCD window. Having said that, it must be remembered that basic time-keeping is practically the only function likely to be used at night and, one could wait for altitude data recalls and 1/100 sec chronography for the following day!

Despite not having an altimeter lock, the altimeter drift has been managed well and the altimeter readings are fairly spot-on. Referencing the altimeter with a known spot height before an ascent/descent improves the accuracy considerably.

The compass is fairly accurate and has several correction features to cater for inherent inaccuracies that creep in magnetic compasses.

The barometer is as accurate as the weatherman's barometer can be. You can have the 'raw' station pressure or, can calibrate it to read sea level pressure as given by all weather stations and isobar weather charts.

Thermometer is a no-no, as in all wrist watches without body-heat compensation factored in. Off the wrist is another story, as the temperature read-out is very accurate, but requires a 20-30 min exposure to ambient conditions.

A point about the skeletonised hr/min hands. As a personal preference, I'd be happier if these two hands were fleshed out with lume, but it's a small matter as one can get used to them as they are. On the plus side, they obscure lesser acreage of the LCD window!

And finally, a comment about the instructions manual. It is small and thick, in a dozen languages, but the font size sucks. You need to download it from the net and print it in a big-sized font, if you are to make out anything of this gizmo's working.

You will love the watch anyway, trust me.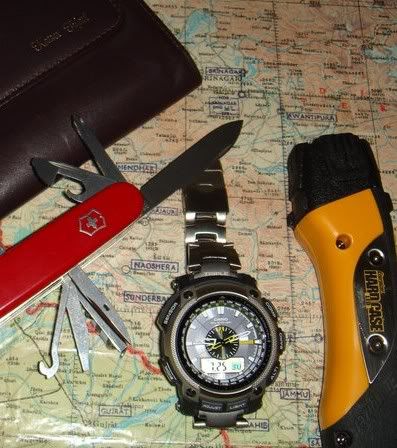 SOURCE : CLICK HERE