Link : http://www.javys.biz/casio/Anniversary/Story/vol01_02.html

"Initially, I thought it would be easy", says Kikuo Ibe, who was in charge of G-Shock design. His optimism was not daunted by a design brief for a new type of wristwatch that simply read: "A watch that will not break when dropped". Looking down from the window of a ground-floor toilet, he thought, "surviving a fall from this height is not very impressive." This was when he resolved to build a watch that would not break even when dropped from a 3rd-floor window (a fall of around 10 meters or roughly 33 feet). But this decision turned out to be a rod for Ibe's back. No matter how thickly they wrapped the casing in rubber, the watch still broke.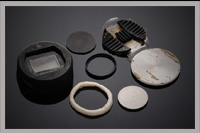 "Even when we increased the strength of the components, there were always variations in the overall strength due to the materials and their shapes. Ultimately, it was always the weakest part that bore the load." Ibe felt that he had reached a complete dead end.
There was day after day of tedious research with no progress. But Ibe could not simply discard research that had begun with his own design brief. This turned out to be the making of Ibe as an engineer. Even though the final week had passed, Ibe, unable to find a solution, took a working holiday to prepare his report. During that break, he took a stroll in a nearby park and happened to observe something.
"As I watched some children bouncing a rubber ball, it suddenly came to me. I thought, 'If the watch were inside that ball, it might withstand strong impacts'." This was the breakthrough that became the inspiration behind the basic G-Shock design: "a floating structure supporting the components between fixed points". A eureka moment indeed.
Most engineers work by first building a hypothesis and then conducting research and development work founded strictly on basic data. Ibe simply followed his intuition. But it was Ibe's attitude of immersing himself in the research and refusing to give up that enabled him to tease out the best possible solution. "I believed too strongly that research is its own reward. To be honest, I didn't worry too much about whether it would actually sell." Even now, that philosophy still plays a powerful role in G-Shock development.
"I think the reason the G-Shock brand has survived 25 years is that it is truly a tool that is perfectly adapted to a particular lifestyle. Among all the people who have worked so hard in so many ways over the years to establish the G-Shock brand, there have been many who joined Casio enthusiastic to create G-Shock watches. Its continued success over 25 years owes much to their efforts. It is this fact that brings me the most happiness." And it is the smile on Kikuo Ibe's face as he says this that shows how passionate he still is about this project.