This Master of G buyer's guide covers the current models of Casio's flagship G-Shock series.
The history of the Master of G specialty line goes back to 1985 with the introduction of the mud-resistant DW-5500C nicknamed the Mudman.
The Frogman first appeared in 1993 as a large dive watch featuring an asymmetrical case design.
It would see several design changes and go on to become the most well known Master of G watch and feature some of the most recognizable G-Shock cases.
Casio indulged the collectors market with many limited edition models featuring unique color schemes. With the GW-200 series the Frogman was both a high-performing specialty watch and a popular collectible.
First and foremost the Master of G line has always been about featuring the latest technology in G-Shock watches and that tradition continues with the current models.
Master of G is also known as the "Professional Series" and consists of specialty watches that are targeted toward certain occupations (such as military, rescue, boaters, divers, hunters, adventurers), but they remain accessible and useful to all wearers.
They are ruggedly stylish and have a certain prestige among G-shock enthusiasts.
It should be noted that with the exception of the G9100 Gulfman and previous generation G9000 Mudman, the Master of G watches are significantly larger and wider than standard G-Shock models.
Expect all the Master of G models to have the usual G-Shock features like shock resistance, 200 meter water resistance, auto EL or LED backlight, alarms, hourly time signal, stopwatch (1/100 second), countdown timer, world time, auto calender, 12/24 hour format, and button tone on/off.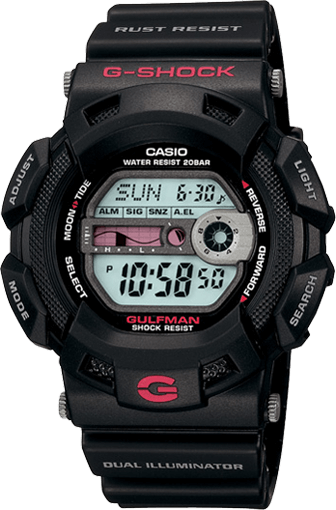 G-SHOCK G-9100 GULFMAN
The Gulfman series started long ago with the DW-9700 in 1999.
The current G-9100 was introduced in 2007 and was a popular and highly regarded model. With the introduction of the Gulfmaster it seems to have fallen out of the limelight recently despite being an excellent watch.
The G-9100 Gulfman is known for its metal parts made from a titanium-alloy that provides resistance to rust and corrosion, making it good choice for saltwater use. It also has more ocean-related features with its tide and moon graph.
It's no longer listed in the USA Master of G lineup but it is for Japan and Europe and is still widely available.
The G-9100 has an impressive 7-year battery and a retail price of $99.
It is also available in the JDM version GW-9110-1JF Gulfman with Tough Solar and Multi-Band 6.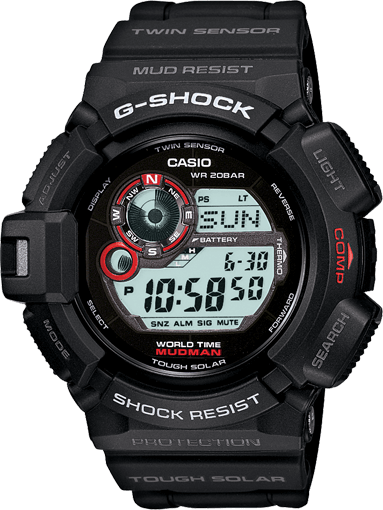 G-SHOCK G-9300 MUDMAN
The G-9300 is the latest generation of the Mudman and adds Tough Solar, a digital compass, thermometer, and moon graph.
In addition to being mud resistant it is also dust resistant.
The one missing feature here is Multi-Band 6 radio synchronization but we don't think that's a deal breaker as G-Shocks are very accurate and rarely need adjusting.
There is also a Japanese model GW-9300-1JF with Multi-Band 6 but it costs significantly more.
The G-9300's simple design, useful functions, and reasonable price make it a great watch for military use or anyone who spends a lot of time outdoors. Retail price is $200.
The previous version G-9000 Mudman which lacks the Twin Sensor is still available and still considered a Master of G watch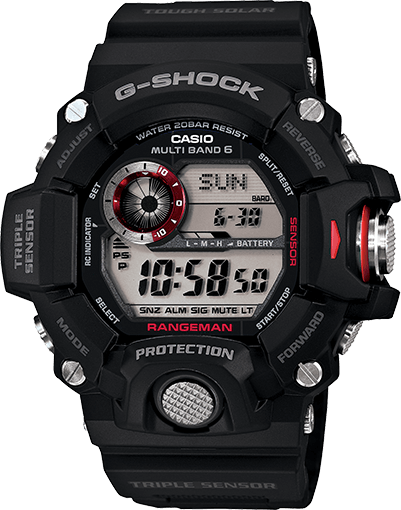 G-SHOCK GW-9400 RANGEMAN
As the successor to the well-received sensor-equipped GW-9200 Riseman, the GW-9400 Rangeman is a huge improvement in looks and is getting all the Master of G love these days.
With its metal buttons, front-facing screws, and muscular build, the Rangeman looks like a G-Shock on steroids but it has lots of brains too.
It's billed by Casio as a survival watch and its standout feature is the Triple Sensor with altimeter/barometer, thermometer, and compass. It also has sunrise/sunset data.
The Rangeman is known for its unique sensor button with a metal cover for protection.
Each sensor has its own unique beep so you can determine which mode you are in without looking at the watch.
More specialty features include sunrise and sunset data, one touch time recording, and one touch elapsed time measurement.
The Rangeman also has Tough Solar power, Multi-Band 6, and an LED backlight for illumination.
In addition to its technical features the Rangeman is intended for those who expect their watch to take above average levels of impact and abuse.
The Rangeman is also low temperature resistant to 14 F (-10 C). Retail price is $300.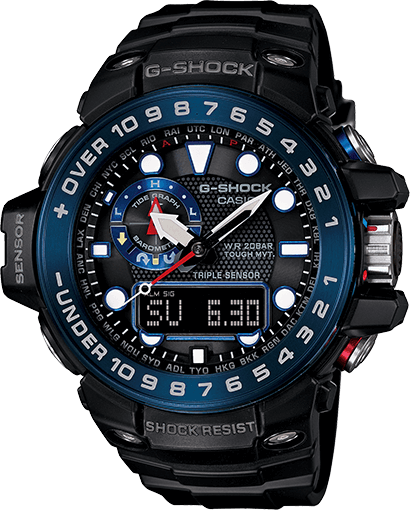 G-SHOCK GWN-1000 GULFMASTER
The GWN-1000 Gulfmaster is one of the latest additions to the Master of G series and is the ideal G-Shock for boaters and those who spend a lot of time on the ocean.
The Gulfmaster features analog hands with LCD display, Triple Sensor like the Rangeman and it also has a tide graph and moon data.
With its large round maritime design that takes some cues from the aviation line, this watch may not look like the typical G-Shock at first glance but rest assured it is with the usual shock resistance.
It also has Tough Solar power and Multi-Band 6 radio wave time syncing.
What makes this model unique from other resin-bodied G-Shocks is that the stainless steel bezel surrounding the glass is perfectly round and uniformly flat (though it does sit higher than the glass for protection), without any chunks of resin covering it.
This gives the Gulfmaster a more refined look than the typical armor-like G-Shock.
The Gulfmaster is one of the larger G-Shock watches but it wears comfortably. While its release was met with some skepticism by some members of the online community (probably due do its unique appearance), it has since become a popular model with very high owner satisfaction.
The GWN-1000 Gulfmaster retails for $500 and is available in a variety of colors.
There is also a new Gulfmaster model, the GN-1000 which retails for $300 which has a Twin Sensor (compass/thermometer) instead of the Triple Sensor and does not have Tough Solar or Multi-Band 6.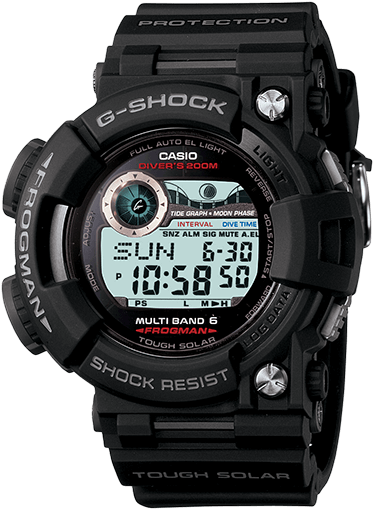 G-SHOCK GWF-1000 FROGMAN
The current version of the beloved Frogman took on a significant design change from the long-running GW-200.
Its partially exposed stainless steel case is reminiscent of the early DW-8200 design and it is larger than the GW-200 at 52.8mm wide versus 49.6mm.
Its price has also more than doubled with a list price of $700.
What makes the Frogman so special?
All G-Shocks are water resistant up to 200 meters but the Frogman has a screw lock back and is the only G-Shock that is ISO certified to 200 meters.
The bezel and back are coated with diamond-like carbon (DLC), giving extra resistance to scratching and corrosion.
The Frogman is also made in Japan. That doesn't necessarily mean it's higher quality or more reliable than a non-Japan made G-Shock, but some people think it is more prestigious as most G-Shocks are made outside of Japan. It also explains the high price.
The current Frogman is solar charged and adds Multi-Band 6 for the first time. It also has tide and moon graphs and data memory for up to 10 logs.
There will always be a special place in our hearts as long as it continues to exist, but it is difficult to get excited about the Frogman at this price unless you need a serious dive watch or are willing to spend more for a Japan-made prestige G-Shock.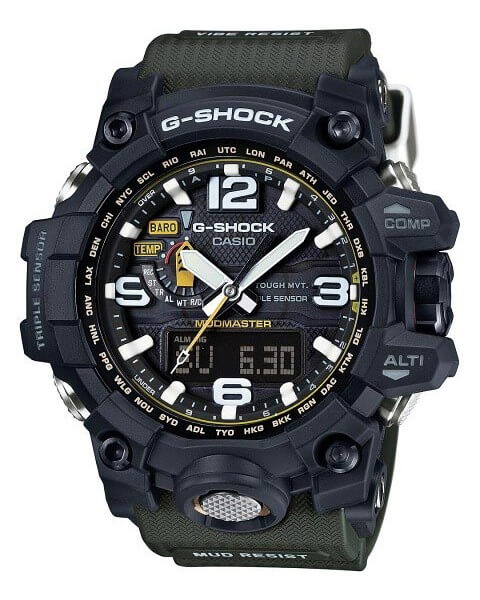 G-SHOCK GWG-1000 MUDMASTER
The easiest way to describe the Mudmaster is as an upgraded Rangeman in analog-digital form.
It has a similar guarded button structure with gaskets in the cylinders and button shafts and a screw lock crown that prevents mud and dust from getting into the case.
Unlike the Rangeman, it also utilizes Alpha Gel at key points to add resistance to extreme vibration. It has a Triple Sensor to measure direction bearing, temperature, altitude, and barometric pressure.
Like other top of the line analog G-Shock watches it has a sapphire crystal.
Perhaps the main thing that has caused all the excitement about this watch is simply the way it looks. Until now, the high-end G-Shock analog watches have been aviation and luxury models.
The Mudmaster is very big, very tough-looking with its military-like styling, and is really the first G-Shock of its kind: the high-end tactical analog G-Shock.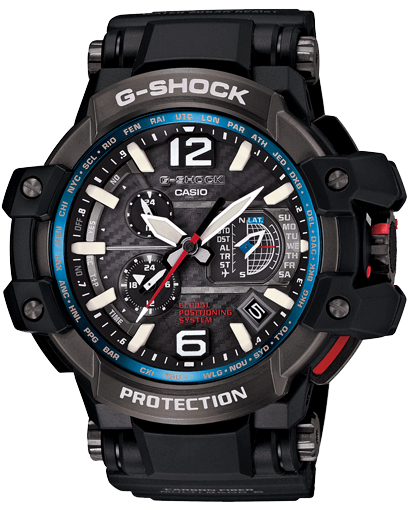 G-SHOCK GPW-1000 GRAVITY MASTER
The Gravitymaster name refers to several G-Shock aviation watches with the GPW-1000 representing the top of the line.
Initially it wasn't clear if the GPW-1000 was a Master of G watch but recent events (see below) have cleared that up and its model number structure is consistent with the rest of the lineup.
The GPW-1000 is known for being the first G-Shock with GPS hybrid timekeeping. If it's out of range of the Multi-Band 6 radio transmitters, it can still sync the time through the reception of GPS satellite signals.
It can also determine the time zone and DST setting automatically.
This means the watch can sync anywhere in the world in any time zone and makes it a good choice for world travelers or those living in remote locations.
The GPW-1000 also has Triple G Resist, offering resistance to shock, g-forces, and heavy vibration.
While it has the looks of an aviation watch, its resin frame and resin band with carbon fiber insert makes it a rugged watch suitable for the outdoors. It also has a sapphire crystal and unlike most other G-Shock aviation models, an LED light.
INTERNATIONAL MASTER OF G LINEUPS
Previously there were questions about whether the Master of G lineup was considered an all-digital lineup by G-Shock Japan as the Gulfmaster was not listed as a Master of G watch on international G-Shock sites other than the U.S. site.
That has been cleared up with the October 2015 release of the Black and Gold Master of G series of analog watches and G-Shock Japan updating its Master of G page to include the Gulfmaster (including the GN-1000), Mudmaster, and GPW-1000 Gravitymaster.
G-Shock US is now listing many Gravitymaster aviation watches in its Master of G lineup, including the GA-1000, GA-1100,GWA-1000, and GWA-1100.
To avoid redundancy we are keeping those models on the G-Shock Aviation Watches Guide page.
CONCLUSION
The GWG-1000 Mudmaster is the most highly anticipated new Master of G watch to come along since the Rangeman. It will be interesting to see if Casio plans to develop more analog-digital models like this and if it will continue to develop its high-end digital models.
The Frogman is certainly worthy of the name and technically the best Frogman ever, but the GWF-1000 Frogman price demands serious consideration before purchasing. This rise in price was inevitable as Casio started introducing a lot of other high-end G-Shock watches and the Frogman has always been a premium model. At least they are keeping some of the other Master of G watches affordable.
The G-9300 Mudman makes a great entry point for budget-conscious buyers and has practical features everyone can use.
The GW-9400 Rangeman is the most highly recommended Master of G model at the moment, as it strikes the right balance between features and price and is a very distinctive and tough looking watch.
The GWN-1000 Gulfmaster is one the most unique G-Shocks with its big analog-digital display and availability in various colors.
The GPW-1000 Gravitymaster is a high-tech masterpiece that straddles the line between rugged outdoor watch and luxury timepiece.